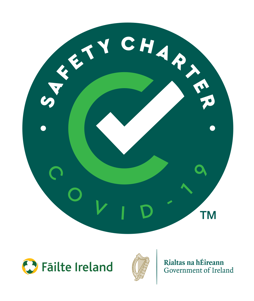 11th March 2021

Coronavirus (COVID-19) Travel Update Irish Luxury Tours

We hope that all of our guests and potential customers are staying safe and well. During these unprecedented time Irish Luxury Tours is strictly adhering to Government directions.


General COVID-19 Travel Advisory in Operation
There is a Government Advisory in operation against all non-essential international travel. Travel restrictions are in place to protect public health and to mitigate the risk of new variants of COVID-19 entering the country.
From 26 February 2021, a legal requirement to quarantine has been introduced for all passengers arriving in Ireland. Arrivals from 33 countries designated as Category 2 this involves a mandatory 14 day hotel quarantine. Please see here for a list of countries designated as Category 2. For passengers from all other countries including the USA and the UK, the quarantine period can finish earlier, if the passenger obtains a negative result of a RT-PCR test taken no less than 5 days after arrival in the State.
With these quarantine restrictions in place and hotels and tourism sites currently closed, it is not possible for us to welcome you just yet. It has been announced that we expect 82% of all Irish citizens to be vaccinated by the end of June and we are confident that soon after things will begin to return to some version of normal. We are hopeful that we can welcome guests again by September or October but it could be early 2022 before that is possible. As soon as more information is available we will update this page.
Further information on these measures is available here.
Everyone is asked to comply with restrictions within Ireland, including those under the National Framework for Living with COVID-19. These are listed on the Official website of the Irish Government.
We are currently planning many itineraries for 2022, its getting very busy and as many trips from 2020 and 2021 have been deferred to 2022, if you are thinking about Ireland for your dream trip in 2022 we strongly suggest that you get in touch as soon as possible to begin planning.
We look forward to welcoming guests to Ireland in the near future.
Please do not hesitate to get in touch and make a new booking, you can do so with utmost confidence and maximum flexibility.
For any new trip booked with us for travel with us from September 1st 2021, if it then becomes necessary to amend the dates, clients may transfer bookings free of charge to any alternate future date. We will not charge any amendment fees.


Please note that it may be necessary to adjust the cost of your trip to reflect the new dates, if those dates coincide with any festivals, events or a higher season of travel. Equally, if the value of your postponed trip is less than your original trip, we will reduce the cost accordingly. There may be some availability issues as we rework your travel plans and as before we almost always have a selection of wonderful alternate properties and we will send for your review and approval prior to reconfirming your trip.
Your help and support is truly appreciated during these very difficult times in the travel industry, we do hope to hear from you soon and we are looking forward to welcoming you to Ireland.
More information

Info you have any questions or would like to talk to someone about a future trip to Ireland please email us on tours@irishluxurytours.com with a date and time (GMT) to call you back and we will contact you to discuss the trip.
To check the latest travel advice from the Irish Government, department for Foreign Affairs:
https://www.dfa.ie/travel/travel-advice/coronavirus/general-covid-19-travel-advisory/https://www.dfa.ie/home/index.aspx?id=275
To check the latest information from Tourism Ireland:
https://www.tourismireland.com/Press-Releases/2020/March/COVID-19-coronavirus
To help with your research for visit to Ireland, please also feel free to email with any questions or queries.
https://ireland.ie/visit-experience/
World Health Organisation
https://www.who.int/emergencies/diseases/novel-coronavirus-2019