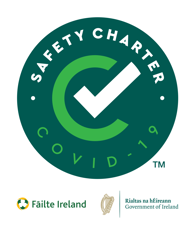 2nd November 2021

Coronavirus (COVID-19) Travel Update Irish Luxury Tours

We hope that all of our guests and potential customers are staying safe and well. 

Ireland is full open for Guests start planning your 2021 trip now
Passengers arriving into Ireland from EU/EEA and the USA
If you arrive into Ireland from a country outside the EU or EEA and you have valid proof of vaccination or proof that you have recovered from COVID-19 in the past 180 days, you do not need to do any travel-related testing.
You should read the definitions of 'fully vaccinated' and 'recovered from COVID-19' above.
If you do not have valid proof of vaccination or recovery, you will need to show evidence of a negative RT- PCR test result taken within 72 hours before your arrival.
All passengers will be advised to observe public health restrictions and to present for post-arrival testing if they develop symptoms of COVID-19.
We are currently planning many itineraries for 2022, if you are thinking about Ireland for your dream trip we strongly suggest that you get in touch as soon as possible to begin planning.
We look forward to welcoming guests to Ireland in 2022
Please do not hesitate to get in touch and make a new booking, you can do so with utmost confidence and maximum flexibility.
More information

Info you have any questions or would like to talk to someone about a future trip to Ireland please email us on tours@irishluxurytours.com and we will contact you to discuss the trip.
To check the latest travel advice from the Irish Government, department for Foreign Affairs:
To check the latest information from Tourism Ireland:
To help with your research for your visit to Ireland, please also feel free to email with any questions or queries.
Other Links Regarding Coronavirus