Luxury 7 day Ireland tour - Dublin and South West Ireland

An itinerary custom designed to introduce you to Dublin and the South West of Ireland with this magical 7 day Ireland tour.
Immerse yourself in our well-paced experience of Dublin, and the magnificent beauty of South-West Ireland. Panoramic ocean views, unspoilt wilderness, national parks. And what a way to experience the world-famous hospitality of the Irish.
You'll stay in hand-selected, 5-star hotels, including a castle, rich in ancestral history. Your friendly driver-guide will be with you throughout your trip, making every day incredible.
Tour Highlights
The Book of Kells
Kilkenny Castle
The Rock of Cashel
Cahir Castle
Blarney Castle
Jameson Experience
The Ring of Kerry
Dingle Peninsula
The Cliffs of Moher
Dromoland Castle
Day 1
Arrive in Dublin 

As your plane touches down at Dublin airport, your driver-guide is waiting to welcome you to Ireland, with a luxury and most comfortable vehicle. Step into another world and relax. We'll accompany you from here, your every need attended. You won't worry about a thing.
Dublin centre is just 10km from the airport and you'll enjoy a short orientation tour of the centre, noting many key sights (subject to traffic and times). Your driver-guide may show you O'Connell Street and the General Post Office; the Proclamation was read here for the first time on Easter Sunday 1916.
Your short tour might also include the Garden of Remembrance and The Custom House. Don't worry, you'll have plenty of time to see more tomorrow, once you're rested.
You'll then arrive at your central Dublin 5-star hotel, where you'll stay for two nights: The Shelbourne, The Merrion, The Westbury or the Dylan. You'll have chosen when you booked. Your driver-guide will help you check in to your room, then leave you to settle in, rest and relax.
Should you need recommendations for dinner, you only have to ask. With local knowledge and a love of the city, we're armed with delicious ideas.
Accommodation is included for two nights at your choice of hotel
The Shelbourne Hotel: The Merrion Hotel: The Westbury Hotel or The Dylan Hotel. The rest of the day is free for you to rest and relax and enjoy Dublin's Fair City.


More about your driver-guide
Our driver-guides are what makes your trip so very special.
We provide only the very best of local guides and driver-guides (One Person) who will be with you for 8 hours per day with an hour for lunch. During your trip, you will discover a wealth of detailed information about Irish history, about the cities, towns and villages along the route. You will learn about the heritage of Ireland its complex history back to 13,000BC. Through an intricately woven timeline you will see first-hand the influences that have come together to make the Irish who we are. Most importantly your driver/guide is there to make your trip through the Real Ireland as memorable as possible so we will be flexible to allow you to experience and feel the Real Ireland.
You will be taken to those real places where you can immerse yourself in the culture, feel the character and meet the characters.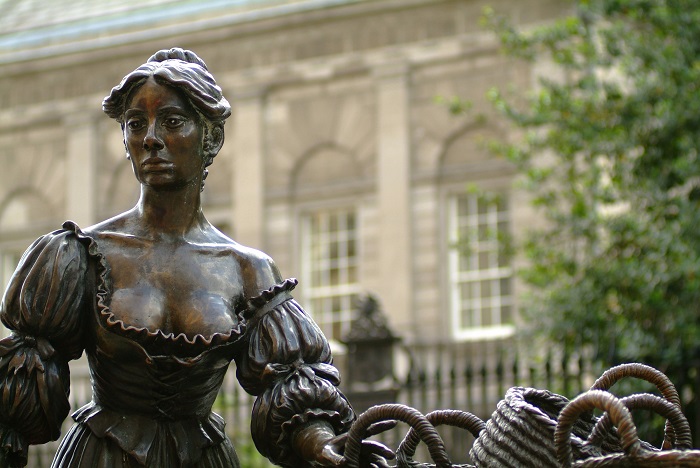 Day 2
Dublin: A walking tour of the city
After your first Irish breakfast, you'll meet our friendly local guide in your hotel lobby. They'll take you on an informative, private three-hour walking tour of Dublin city. Offering a fascinating insight into Ireland's capital, you'll learn more about life in Dublin. Rest assured, we can tailor our tour to meet any mobility needs or specific interests.
Key highlights include Dublin Castle – an impressive 13th century building, now a major government complex since independence in 1922. You'll also see The Custom House near Dublin Port. Opened in 1791, it's awash with neoclassical splendor. And no visit would be complete without experiencing the Georgian doors of Dublin first-hand. Colourful and decorative, they're now part of Dublin's DNA.
Your walking tour will end at Trinity College Library: home to the Book of Kells. Nestled in the heart of Dublin along ancient cobbled stone lanes, we've included your entrance fee to admire this lavishly decorated and most historical book. Crafted from vellum, it contains the four Gospels in Latin, dating back to the 9th Century. The book is famous throughout the world.
With the afternoon and evening free to explore further, we'll happily make your arrangements. You might favour The Irish Emigration Museum, The Guinness Storehouse or The National Gallery. Even a spot of Irish shopping? Try the public transport or keep your driver for the afternoon, we'll plan it all for you if you want. You're never left not knowing what to see or do next.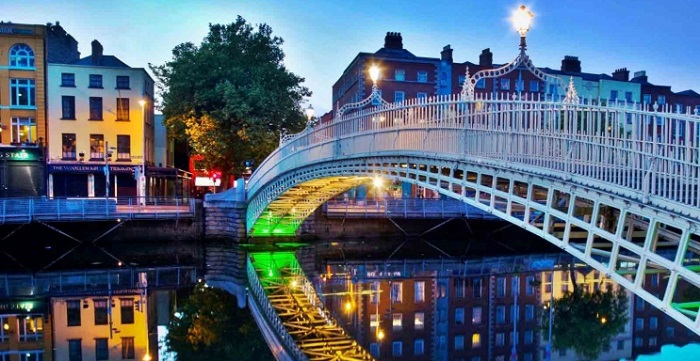 Day 3
Dublin to Cork: The land of the saints and scholars
Today, your Irish adventure leaves Dublin behind. There's so much more to discover!

In the safety of your luxury vehicle and with the company of your trusted driver-guide, you'll travel south-west towards Cork. There's 265km of scenery to soak in and many sites to stop at along the way. In the safety of your luxury vehicle and with the company of your trusted driver-guide, you'll travel south-west towards Cork. There's 265km of scenery to soak in along the way. We include entrance fees to the following two sites as you travel.
Choose any 2 of the following sites:
The Irish National Stud and Japanese Gardens – look round this thoroughbred horse breeding facility at Tully. Throughout the last century, the farm has produced many historic winners, including Sun Chariot (born 1946) who won the fillies' Triple Crown. Then marvel at the beauty of Europe's finest Japanese gardens.
Kilkenny Castle – an authentic and strategically important Irish castle that dominates the "high town" of Kilkenny. Built in 1195, many additions display various architectural styles across the ages. You can peacefully wander around the gardens to take in the drama of this historic structure.
The Rock of Cashel – a historically significant group of medieval fortifications on prominent limestone outcrops in the Golden Vale. This is the site where St Patrick chose to make the head of his church in Ireland.
Cahir Castle – one of the largest and best-preserved castles in Ireland, dating back to 1142. Situated on a rocky island in the river Suir, it was once home to the powerful Butler family.
The Queenstown Story in Cobh – a captivating exhibition of Irish history that includes the immigration story, building the Titanic and Cobh as Queenstown.
The Jameson Experience at the Midleton Distillery – enjoy a spot of Irish whiskey tasting whilst learning about the heritage of the Jameson brand. See the maturation process for yourself and walk among thousands of wooden whiskey casks, all housing the world-famous Jameson Whiskey.
Blarney Castle – one of Ireland's greatest treasures and now a world landmark, the castle was built more than 600 years ago. You'll find the legendary Stone of Eloquence at the top of the tower; its home since 1446. Kiss it, and you'll never be lost for words again.
At the end of an incredible day, you'll check in to your deluxe room at Perryville House (or similar). A luxurious boutique guest house, overlooking Kinsale Harbour, the magnificent building dates to 1820. Following a no-compromise restoration, you'll savour a comfortable overnight stay.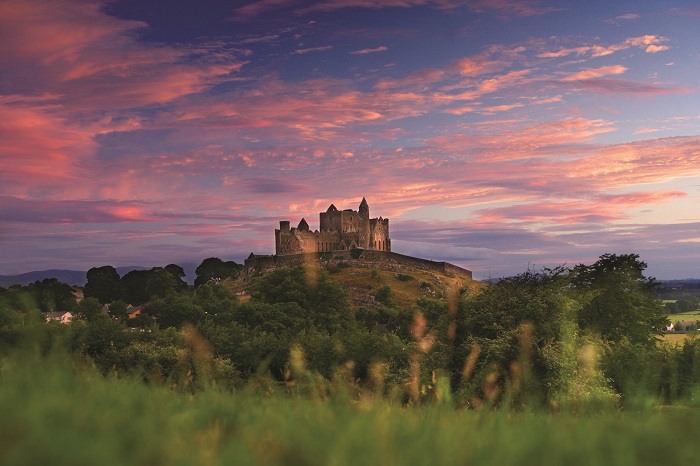 Day 4
Cork to Killarney: The Wild Atlantic Way
Following breakfast, you'll say goodbye to Kinsale town and continue along your well-planned route.
Today is all about scenic splendour. The Wild Atlantic Way follows the west coast of Ireland. And what a route! You'll travel just the start of it today. Perhaps the full length is the itinerary for another trip?
Commencing at Old Head of Kinsale – the official start of The Wild Atlantic Way – breathtaking panoramas are around every corner. You'll soon be amongst wilderness and wonder. Untouched for centuries; just as nature intended. It's hard not to awaken your soul when you experience the tremendous beauty and serenity that Ireland affords.
Your driver-guide knows just where to go. The prettiest roads. The best photo-stops. And of course, superb places to break for lunch. Just sit back, breath in and let a magical day unfold before you.
You'll arrive in Killarney during the afternoon. It's a pretty town boasting many 19th century buildings of interest. Situated on the shores of Lough Leane, it's flanked by Killarney National Park. This is your Irish home for the next three nights.
Here you will check in for 3 nights at The Aghadoe Heights Hotel (located just 10 minutes from Killarney) in a lake side deluxe room or the Killarney Park Hotel (located in the heart of town) in a premium room. The evening is free and you can take the hotel shuttle to town to enjoy Ireland's most famous tourist town and all of the great pubs and restaurants.

Day 5
The Ring of Kerry
It's another fine day for stunning scenery as your attentive driver-guide tours you round the Ring of Kerry. A circular coastal route forming part of The Wild Atlantic Way, it unveils many hidden gems, tucked away in this stunning westerly landscape.
You'll first travel to Killorglin, via the pretty coastal village of Glenbeigh. It hosts one of the finest Atlantic sandy beaches in Ireland. You can also choose to stop and experience a sheepdog demonstration with Brendan Farris, an Irish border collie trainer.
Your journey continues around the Ring of Kerry. Dingle Bay is worth a stop. You'll be drawn to the miles of sandy beaches, crashing waves and soaring cliffs. It's a photographer's paradise. And your driver-guide takes the guesswork out of searching for the best viewpoints.
Cahirciveen is on your route – the birthplace of Ireland's Great Liberator: Daniel O'Connell. And if time permits, you might take the short detour around Skellig Ring (some say it's even more serene than the Ring of Kerry) and cross the little road bridge to Valentia Island. Talk about hidden gems! You'll spot Skellig Island from here – a location for the latest Star Wars films.
And the coastal beauty continues to unfold as you drive through Sneem village and Molls Gap – a climbing mountain pass that affords yet more awe-inspiring views of Ireland at its very best. Back towards Killarney National Park, you'll arrive in Killarney during the afternoon (a little later if you took the detour). Muckross House & Gardens or Torc Waterfall are two additional sights, should you wish.
We recommend the Celtic Steps show in Killarney this evening, if you wish to experience some magnificent Irish music and dancing. Your driver guide can arrange this locally. Alternatively, take some time to reflect on another remarkable day.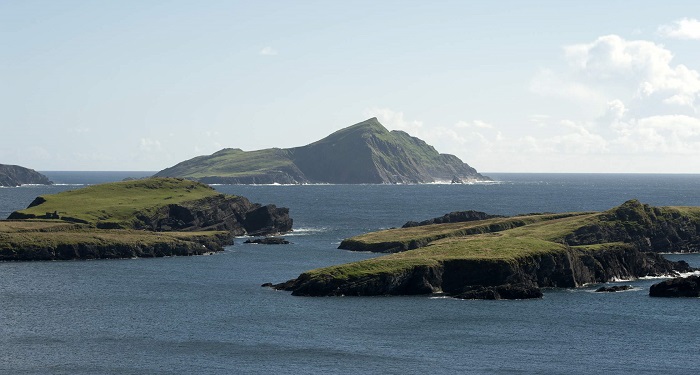 Day 6
The Dingle Peninsula
You'll be glad of your driver-guide today as they take you to marvel at the very best views on the Dingle Peninsula. It's Ireland's most westerly point and rich in wild and rugged beauty.
Slea Head Drive will be the highlight: once cited as "the most beautiful place on earth" by National Geographic. And one of the top 100 destinations in the world by TripAdvisor. Tucked away in gorgeous Ireland.
The drive is a circular route that starts and finishes at the pretty harbour town of Dingle. You'll see fascinating archaeological remains intertwined with secluded sandy beaches and wild open countryside. If you want to escape from it all, there's no better place. The air is clear, the natural light is captivating. You'll feel a sense of peace and calm from beginning to end.
Walk on the beach and squelch the sand in your toes if you fancy. Imagine how those Neolithic settlers felt in 4,000BC. This was home to them.
Lunch might be seafood, or other fare at one of Dingle's delightful restaurants. With Irish as its first language, this ancient town sits within one of the Gaeltacht regions. Be assured that your driver-guide will escort you through and ensure you enjoy your experience of traditional Irish life.
On your return to Killarney, you'll travel over the Conor Pass to Tralee. It's a dramatic journey of peaks and winding climbs. With views to match. Just sit back and take it all in.
Your final evening in Killarney. Let us recommend somewhere to dine. Our local knowledge is always to hand when you need it.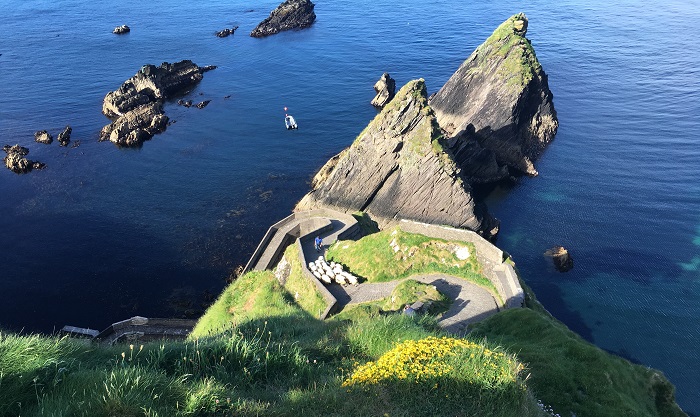 Day 7
The Cliffs of Moher
This morning you'll say goodbye to Killarney and travel north to the coastal town of Tarbet. Here, you'll take a short ferry journey across the Shannon estuary and join another section of The Wild Atlantic Way. Your first destination? The Cliffs of Moher.
It's easy to see why The Cliffs of Moher are a UNESCO Global Geopark. You'll be struck by their staggering height (up to 668 feet) and endless stretch (5 miles). Such a natural landmark makes you feel humble in the world we live.
Enjoy the far-reaching views across the Atlantic Ocean, take a wind-swept stroll along the cliff tops, spot basking sharks and dolphins in the waters below (on a calm day). Your driver-guide will advise you on the most memorable beauty spots and particular things to look out for. Like Kittiwakes and Razorbills. Coastal sea pinks and pretty wildflowers.
Entrance to the visitor centre is included, enabling you to learn more about this natural Irish wonder.

Your journey continues north through the Burren Region; a Geosite that's home to Burren National Park. With curious limestone landscape formed 300 million years ago, you'll spot intriguing mushroom-like stone formations and structures – all naturally formed by the wild, Irish environment. Rich in archaeological history, you'll see many ancient monuments and Neolithic sites. Your driver-guide will fill in the detail as you go.
The grand finale has to be your one-night stay in a deluxe room at 5-star Dromoland Castle. A sight to behold as you drive up to it in total comfort. What a treat! An original ancestral home, dating back to the 16th century, sense the depth of history as you relax in luxurious style. There's an intimate spa, 450 acres and heavenly cuisine. No compromises here.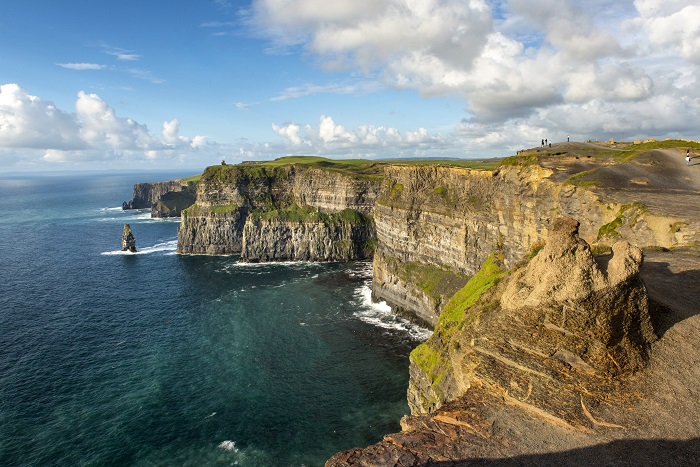 Day 8
Farewell
Has the time flown by? What an incredible journey. What an experience of Ireland's best and finest. And yet, today, it comes to a close. Treasure those memories and special times. You'll be sad to leave our gregarious and charming land, but you can always return. There's more to discover and we'd love to see you again!
As ever, your dear driver-guide is on-hand to drive you to Shannon airport for your return flight. They'll drop you just where you need to be, ensuring your departure is stress-free and easy. After some fond farewells, you'll be safely on your way.

Details
Our tours offer you itineraries created by locals. But something might not work for you. No problem! You can tailor all our itineraries to suit your needs. You might have other stop-offs on your bucket list – perhaps an ancestral town or a friend's recommendation.
Should you prefer to return from Dublin airport, let us know. Together, we'll tailor a spectacular tour to do just that for you; perhaps staying close to the airport if your flight is early.
What is included in your real Irish experience with Irish Luxury Tours
Hotels: 7 nights Bed and full Irish breakfast is included at the following 5 star hotels.
The Shelbourne Hotel or similar Dublin: 2 nights in a deluxe room
Perryville House Co. Cork: Overnight in a deluxe king bedded room.
The Aghadoe Heights Hotel Co. Kerry: 3 nights in a classic king room OR the Killarney Park Hotel 3 nights in 1 premium king room.
Dromoland Castle Co. Clare: 1 night in a deluxe room.
Driver-guide Services: You'll have exclusive use of our professional driver-guide services for five days over the 7 day Ireland tour. Local drivers will also meet you straight from your flight to Dublin and privately transfer you to your hotel. And they'll safely return you to Shannon airport on your return.
A party of up to two passengers will travel in a luxury saloon vehicle. We'll provide a luxury minivan for three to five passengers. For a larger group, we've got many luxury vehicles to suit your needs.
Using a luxury saloon vehicle for 1 – 2 passengers, 1 luxury minivan for 3 – 5 passengers and a range of luxury vehicles to suit any group size.
Private meet greet and arrival transfer including panoramic Dublin City tour
5 complete days of driver-guide services
Private departure transfer
Walking Tour: With an expert local guide
Private 3 Hour Walking Tour of Dublin City
What's not included:
Flights from the USA or Europe, Gratuities and Tips to driver-guides and local guides and anything not mentioned above.
Price
All itineraries are subject to availability. We'll always have fabulous alternatives up our sleeves!
Prices are Per Person starting from (seasonal rates apply)
2 passengers from €5495 to €7995 per person sharing
4 passengers from €4995 to €6995 per person sharing (Two rooms)
6 passengers from €4495 to €6495 per person sharing (Three rooms)
Other prices on request. Please note a single supplement applies for a single room and a single person travelling.
Entrance fees are included to the following sites:
Trinity College for the Book of Kells
The Rock of Cashel
Blarney Castle
The Celtic Steps Irish Show
The Cliffs of Moher including the Atlantic Edge Experience
All communications costs, hotels taxes and fees are also included and the services of our professional travel experts on the ground are available to you 24 hours a day 7 days a week throughout your trip.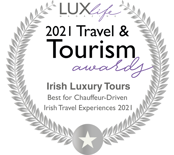 Book
This Tour
Whatever your requirement, simply provide your contact details and we'll be in touch shortly. We can adjust any of the services included to meet your wish list, requirements and your budget.
Custom-Design Your
Own Itinerary
It's a stress-free way to create your magical Irish adventure with our hospitality experts. We can adjust any of the services included to meet your wish list, requirements and your budget.
Similar tours that might interest you
A 9 Day Tour for Foodies
A combination of Small Group Food Tour experiences and private culinary classes to introduce you to Ireland's incredible cuisine.
10 Day Tour to Dublin, Cork, Kerry and Galway
A 10 day tour of Ireland showing you the beauty of Dublin and the South West & West of Ireland.